"I wonder if the snow loves the trees and fields, that it kisses them so gently? And then it covers them up snug, you know, with a white quilt; and perhaps it says, "Go to sleep, darlings, till the summer comes again." ― Lewis Carroll.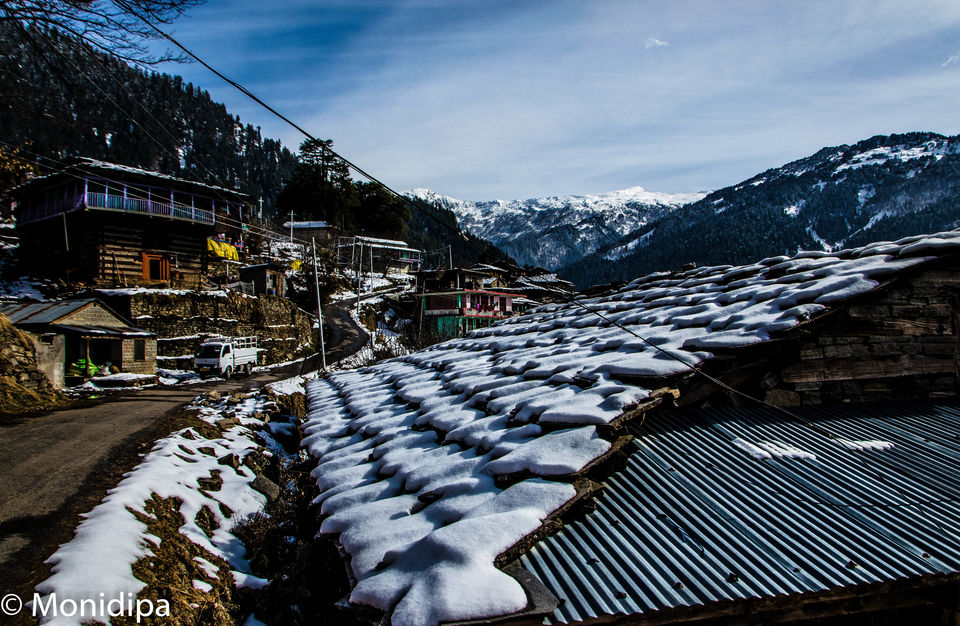 This year (2017) it snowed pretty heavily in the Himalayas. My friend who stays in Sarsai (near Manali) had been calling me to join her from the time it started snowing in January, tempting me with pictures of her house and garden completely covered in snow. However, work pressure and other commitments did not allow me to give in to the temptation of joining her in January. Finally when I could take a break from work, it was already February and had stopped snowing. My friend assured me of thick snow in the higher reaches, and so I took off and landed at her place one early morning in the second week of February for a short 3 day break.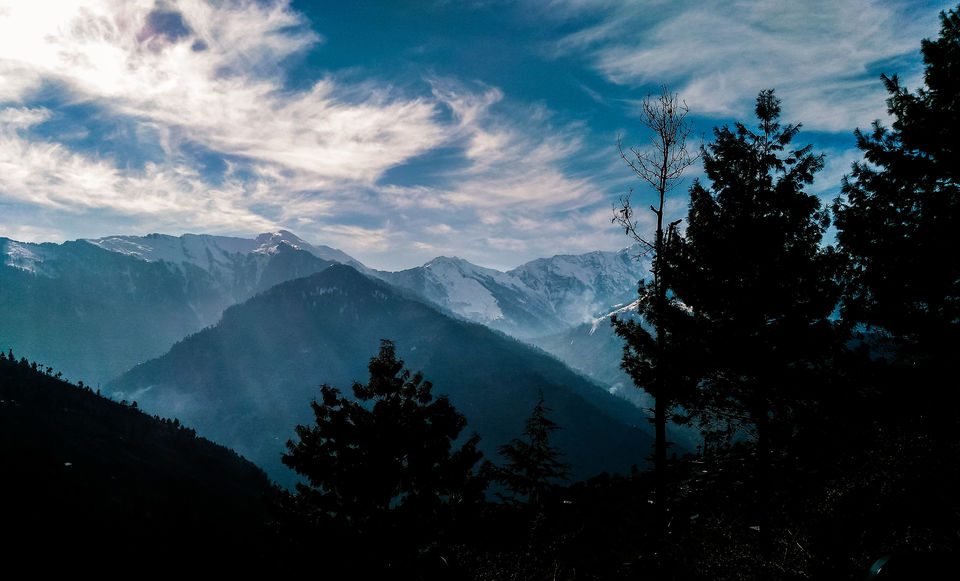 Our search for snow started that very morning. Few days back my friend had visited some of the higher villages near Sarsai, and there had been snow everywhere. However by the time I came, the sun had been hard at work for almost three days, and she feared the snow might have melted in areas that are accessible by motorable roads. Forever optimistic and adventurous by nature, she decided to take me and drive around nevertheless; hence started our mission 'Finding Snow.' Our first point of search was near the Jana waterfalls area, which was supposedly buried under snow just few days back. The road to Jana, which I now know quite by heart owing to our regular excursions there, was beautiful as ever, however didn't yield any snow. The surrounding peaks though were all covered in snow, and looked ethereal.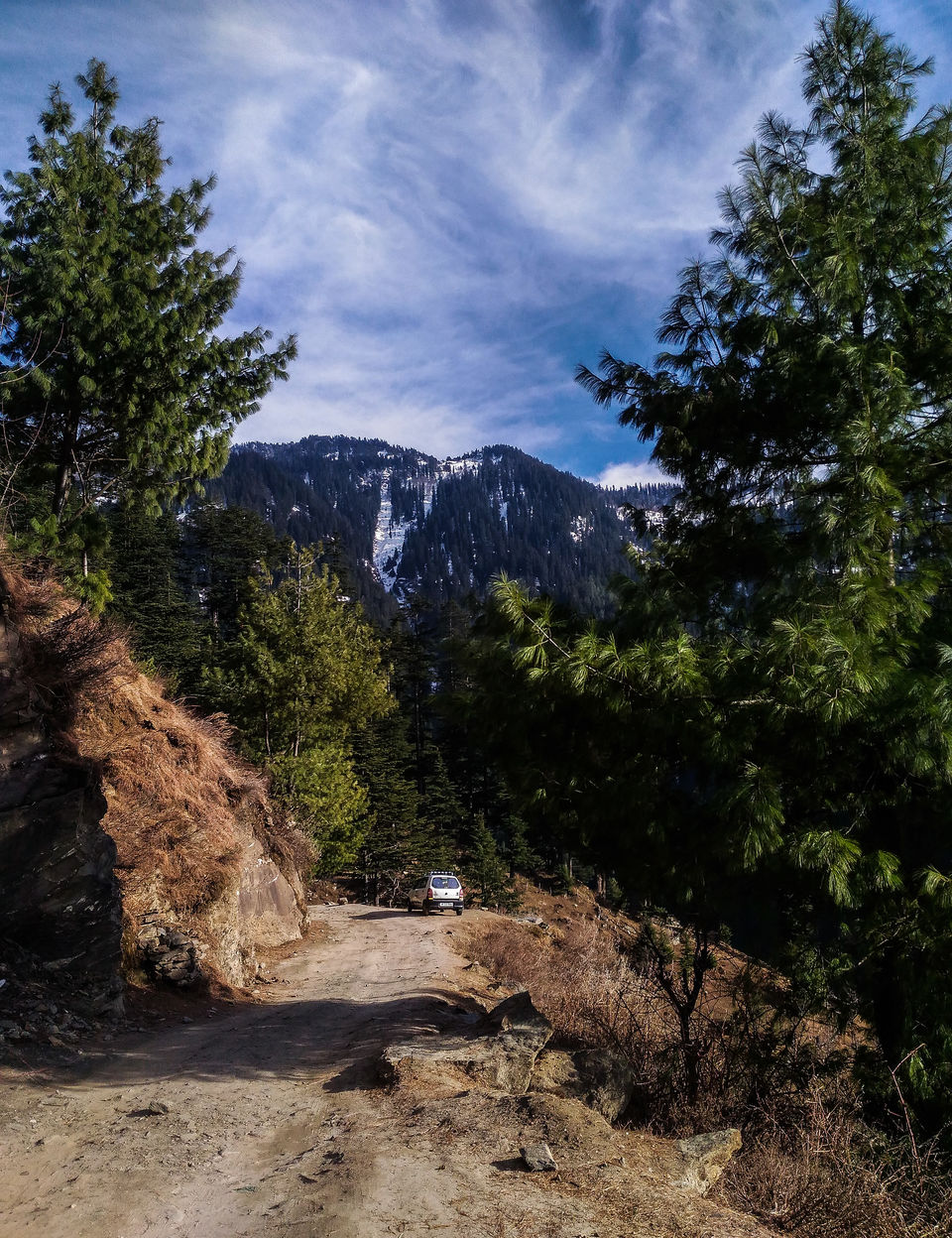 Near the Jana waterfalls there remained few small piles of snow, as if in evidence to prove that my friend had been right, and the sun had indeed played a complete spoilsport by melting the snow. The excursion to the waterfall however wasn't entirely fruitless, as the local food served by a young couple running a small roadside dhaba here is excellent, and has always been my favourite. So our first day excursion ended on a rather delicious and happy note.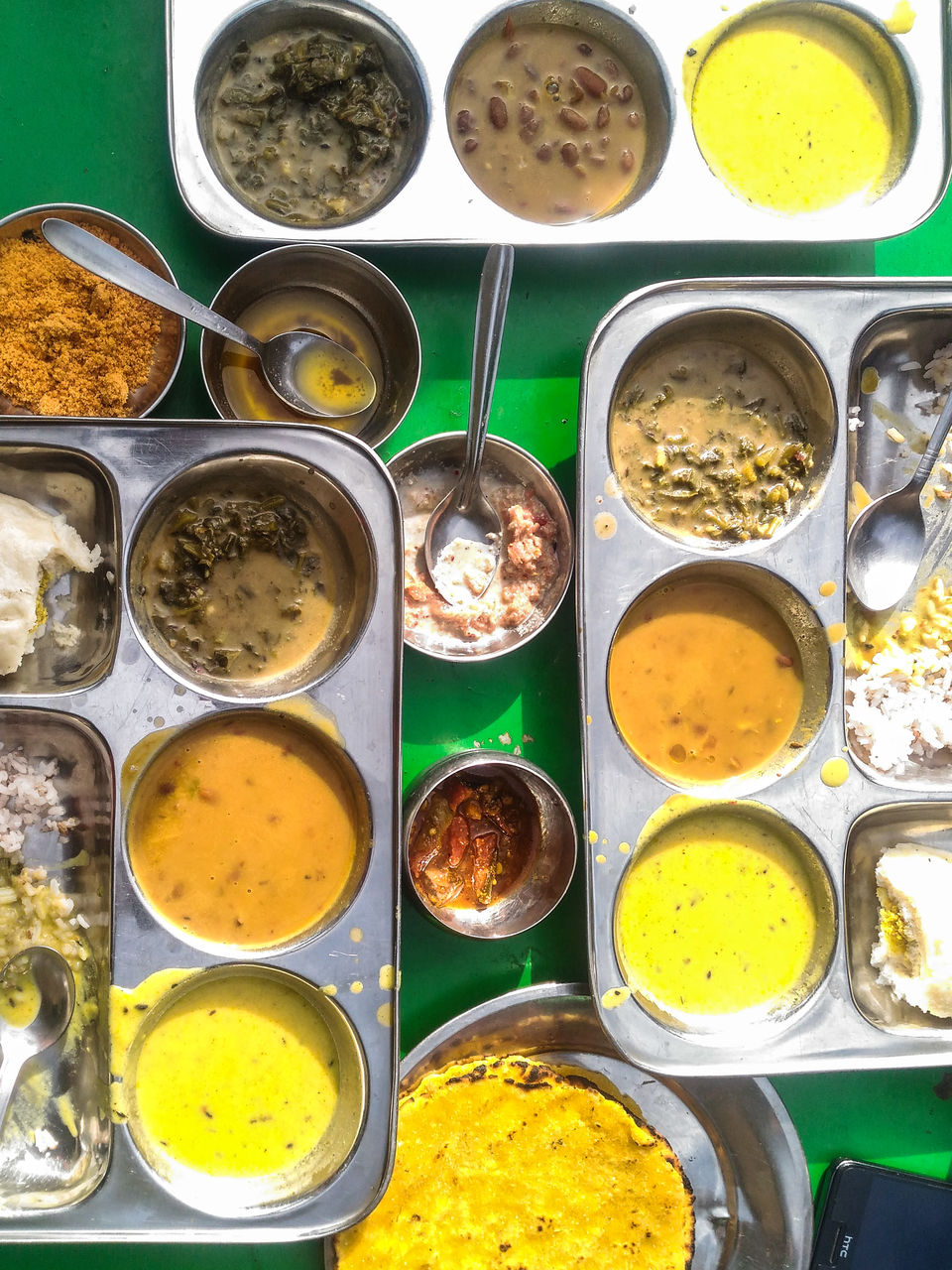 The next day we decided to explore further and in the higher reaches. We decided to go and check the village of Gada Gushaini, which is 55 kms from the Kullu town. We started early from Sarsai, stopped for a heavy brunch just before the Aut tunnel, and reached Jibhi by mid day. After crossing Jibhi, we came across a fork in the road. One went to the Jalori pass and the other road went to Gada Gushaini. We stood there undecided, and on a sudden whim my friend decided to drive towards the Jalori pass. The road to this pass is pretty rough, goes through deep forests, with long uninhabited stretches interspersed with small villages in between. As we drove higher and higher, my friend started showing signs of indecision on whether to turn back or not, as there was no snow. As she dithered, we took a turn, and voila, the road ahead had small piles of snow on both sides. We had reached the village of Sojha, and the scenario suddenly changed. There was snow all around us and wherever we looked.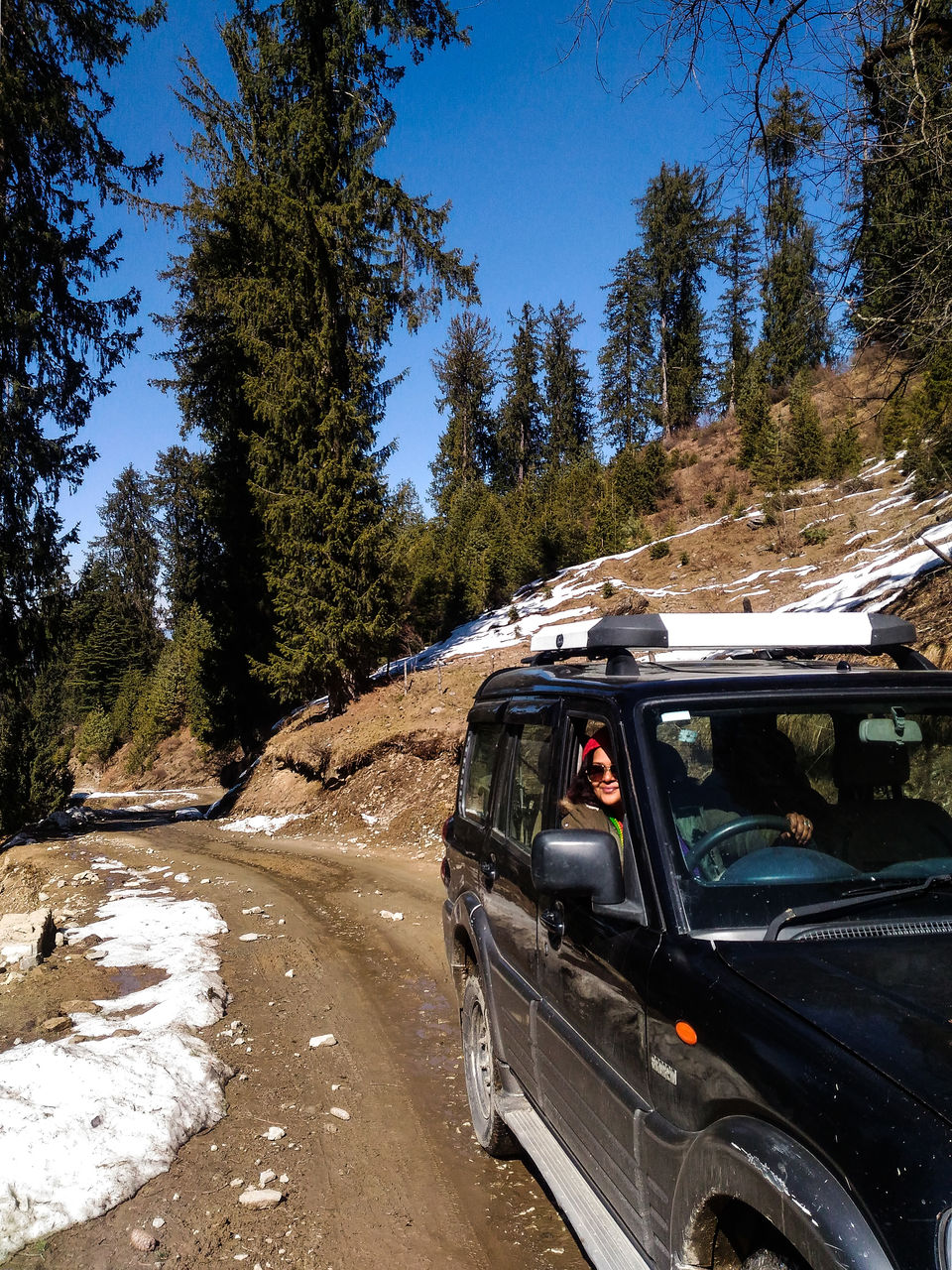 As we moved higher, the snow piled up higher on the road side, and soon the entire world looked white, with white grounds, white peaks, and white icicles hanging from white hill sides looking dangerous as long sharp knives. As we neared the Jalori pass driving became riskier; the ground had frozen ice beneath the flowing waters, and the tyres kept skidding. Soon there was a line up of vehicles that couldn't progress further owing to the poor road conditions. On hearing that some vehicles had been trying to move ahead for three hours with no results, we decided to stop trying to reach the pass, turn back, and go to Gada Gushaini. Turning back wasn't easy either between the tall piles of thick snow on two sides and a narrow road in between, and we had to take help from a local driver to turn the vehicle around. The scenic beauty, despite the dangers, was quite out of the world and it was my first tryst with such thick snow, icy roads, and dangerous driving.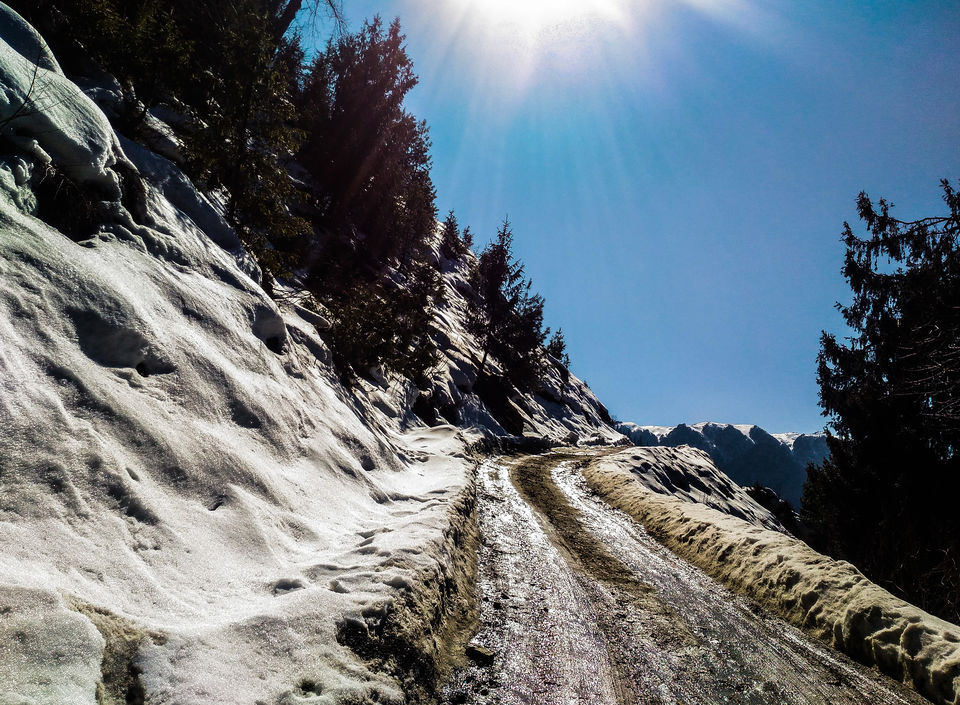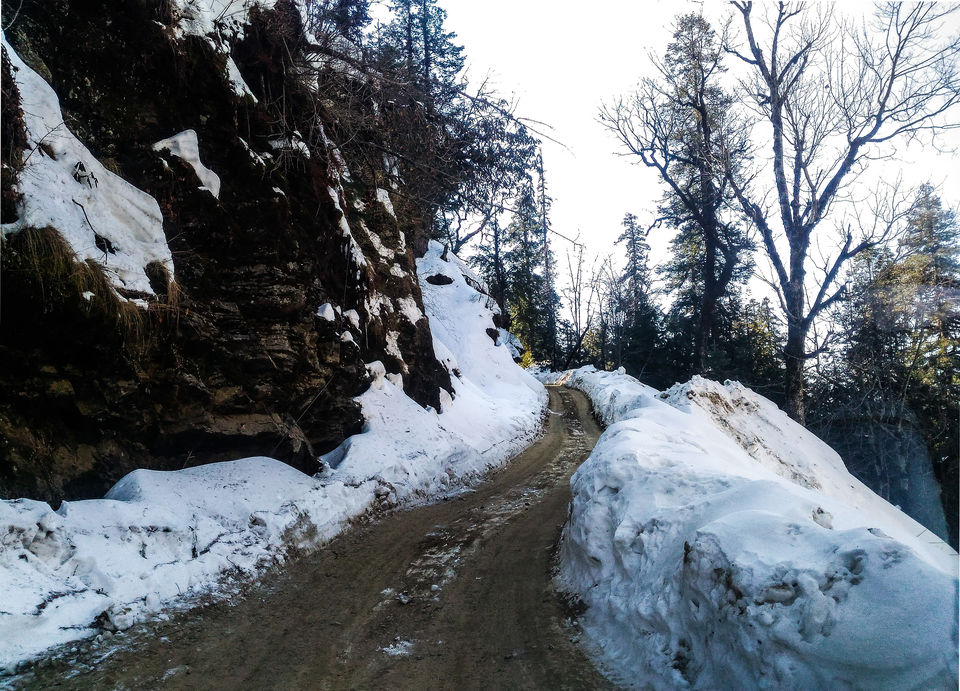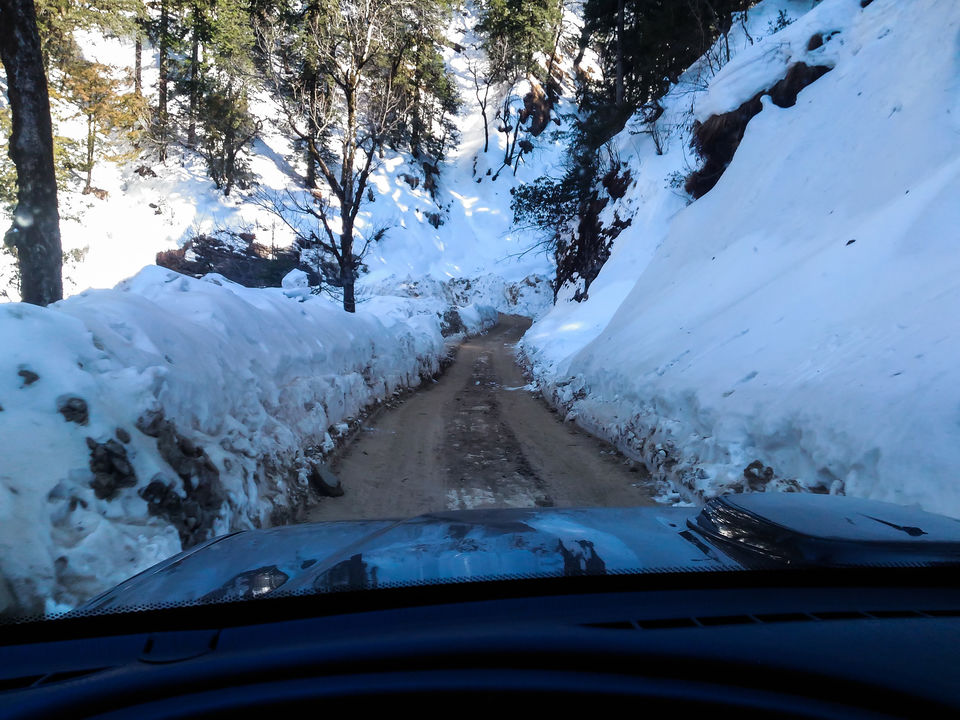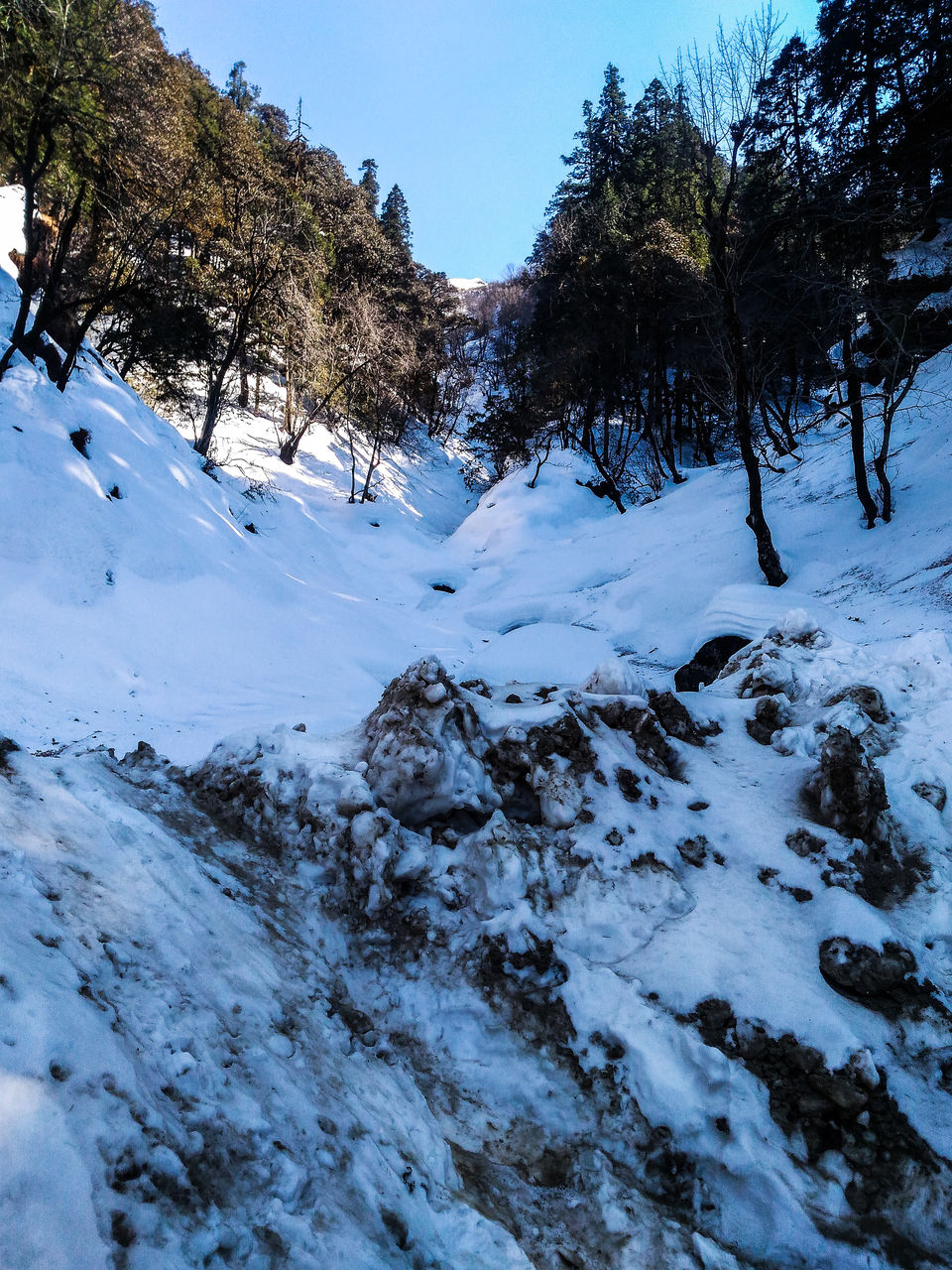 Abandoning our plans to reach Jalori pass, we now took the way back to Jibhi, and from there headed towards Gada Gushaini, a beautiful high altitude village we had crossed while travelling to Spiti last year. On our way to Gushaini we came across a small waterfall that had turned into ice while still in motion, almost as if by magic; and we could see the splash of water that had fallen on the stone below as it froze into ice globules. It was a miracle, a magical work of art by nature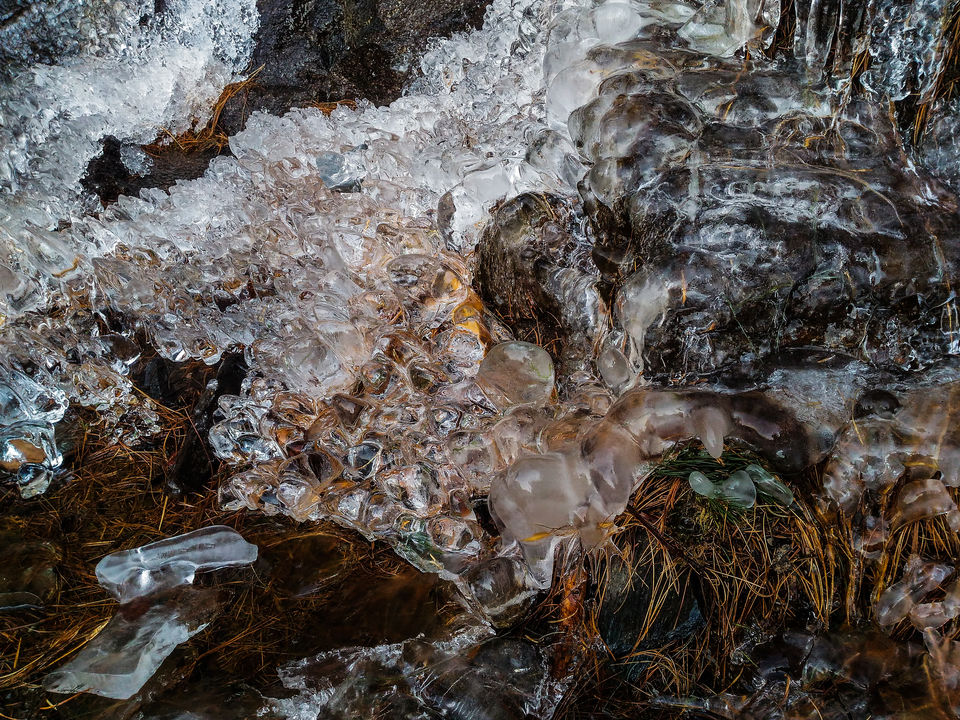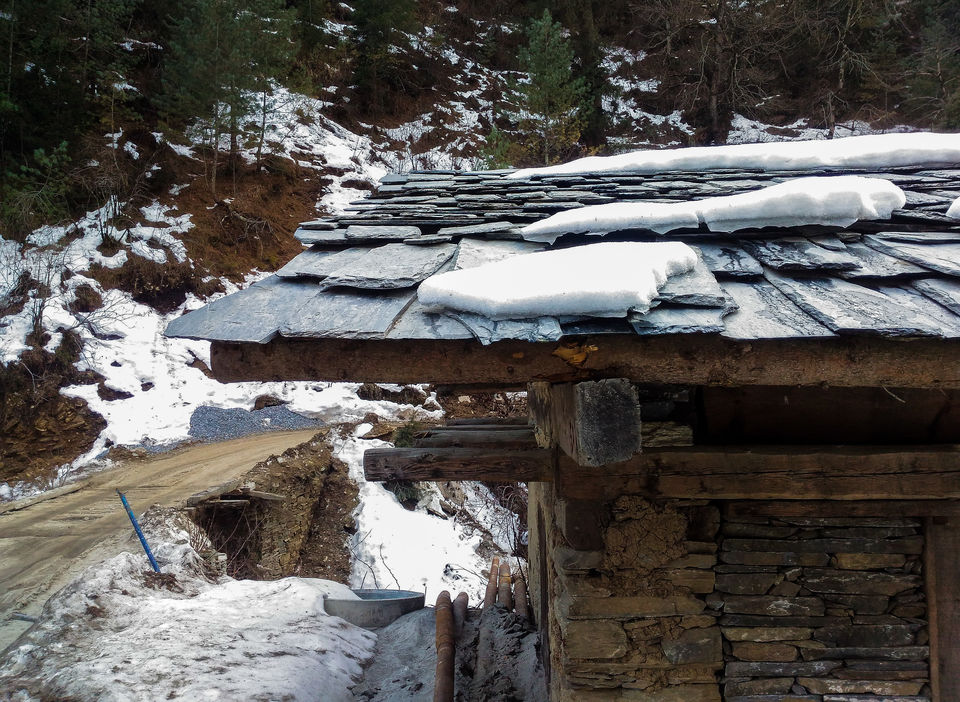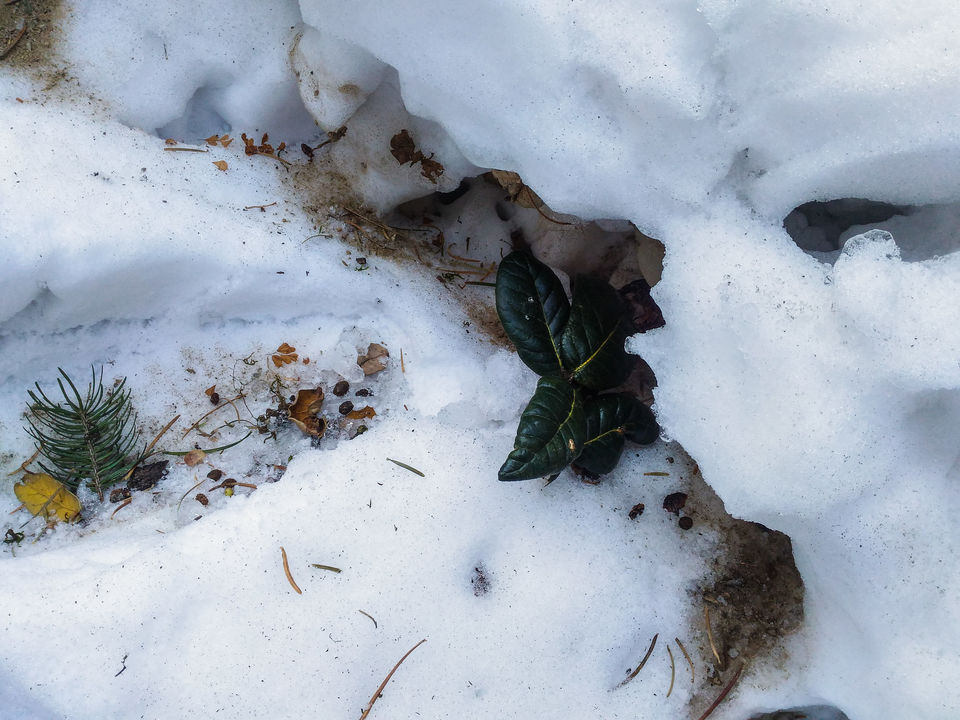 It was past four when we reached Gushaini, and the temperature started dropping sharply while the ground started freezing. We couldn't stay any longer, and decided to start on our long journey back to Sarsai. While on our way back we met the locals celebrating their devta puja in Banjar. While the devta riding his doli had moved ahead, we found some people dressed as apdevtas, wearing thick brooms over their normal clothes and with masks on their faces. We were blessed with a dried flower stalk. It is interesting to see these local traditions that have been going on in the remote villages for perhaps thousands of years without any changes.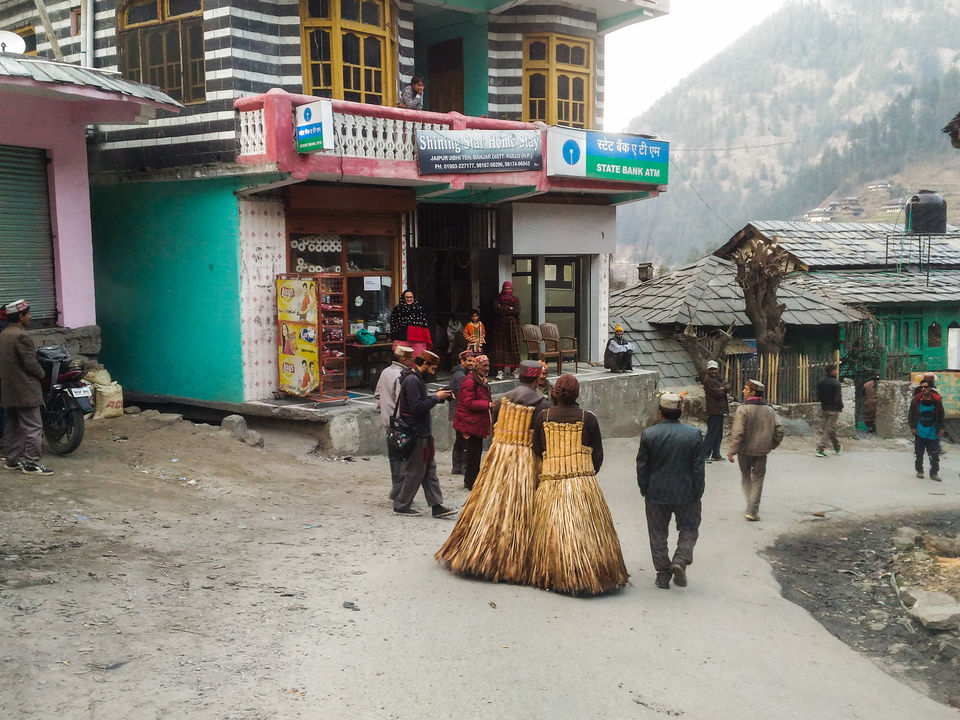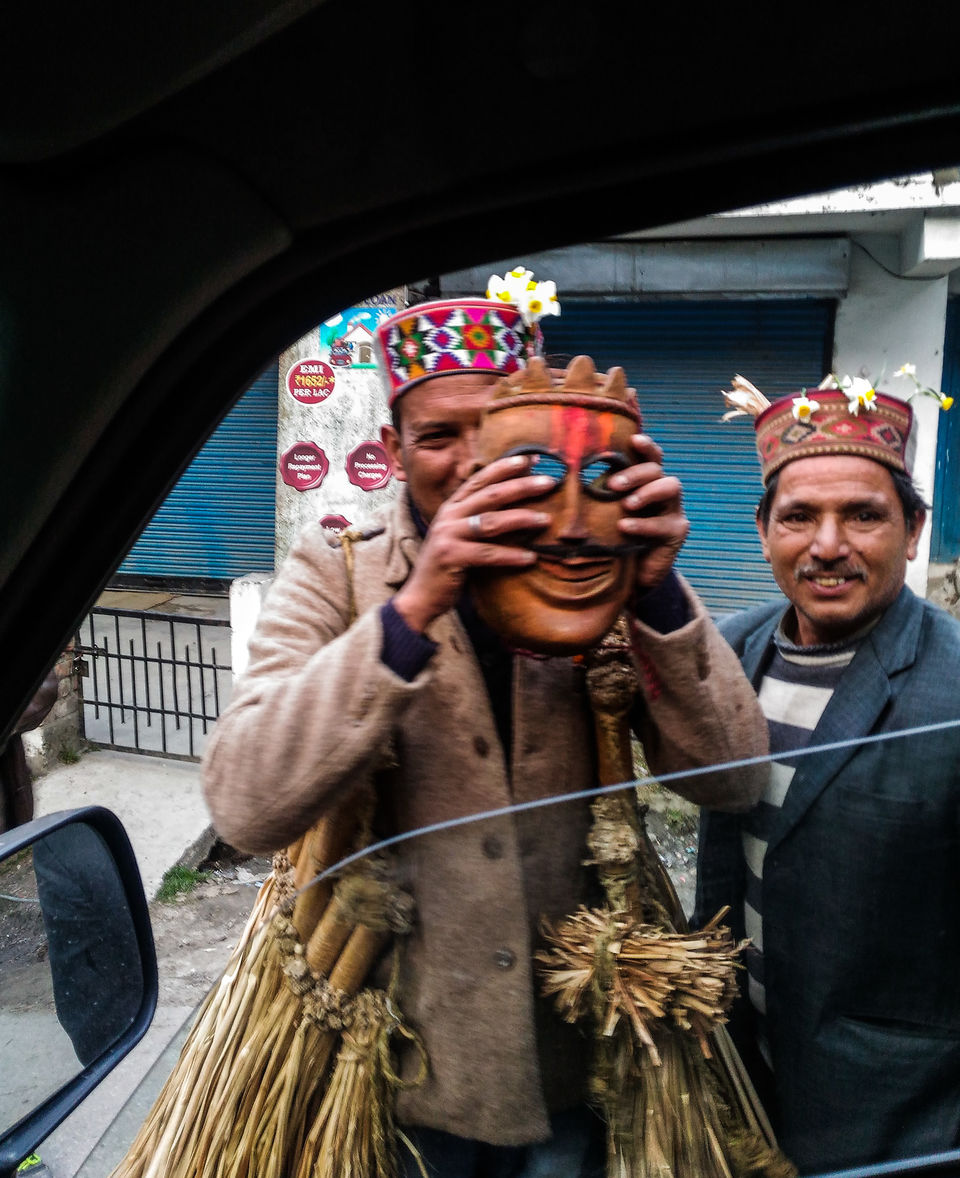 After seeing the Banjar celebrations for some time we set off for home, and after a long drive reached Sarsai at around 8:30 pm. It had been a long day amidst rough terrain, snow filled roads, and some heavenly sights. Our mission 'Snow' had been completely successful and we came back as two exhausted but very happy souls.
The Himalayas are a world of magic, and one must explore deep inside, beyond the popular hill stations and comfort zones, to see some of its enchanting works.
This was first published in Tripoto